It has been four years since Band Of Horses released a studio album. They are now finally out with their fifth one "Why Are You OK", produced by Jason Lytle (from Grandaddy).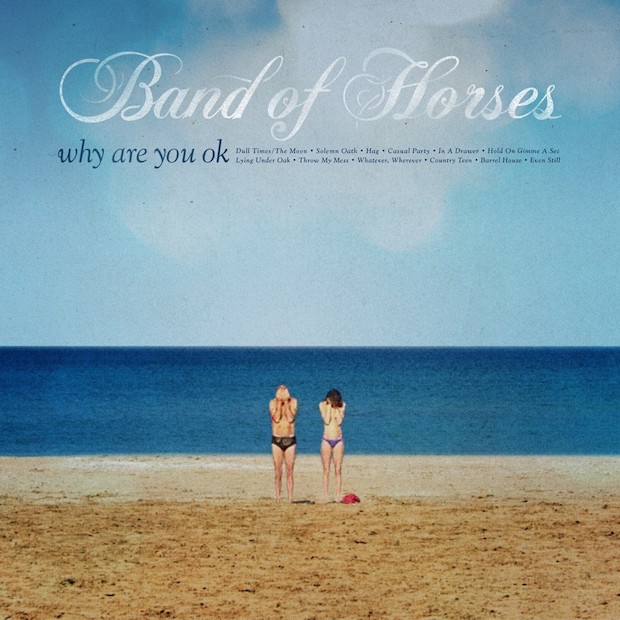 The album starts off with with "Dull Times/The Moon". I hate to say it, but it is a boring start. Luckily the song gets better and more upbeat at the end. The opening song does have a clear message though: home is where the heart is. From a little dull start we get more up beat songs, like "Solemn Oath", "Hag" and the first single "Causual Party". Til now the album has a great flow, which makes me keep on listening. "In A Drawer" is a song that sticks out. It is probably the distinctive voice of Jay Mascis from Dinosaur Jr.. Another song that sticks out is "Country Teen", the one song we don't hear Ben Bridewell sing, but their very talented guitarist Tyler Ramsey, who also wrote it. The song is followed by "Barrel House", which is so beautiful. The melody, the lyrics, the composition – it's perfect, my favorite song from the album for sure. "Why Are You OK" ends with "Even Still", a slow but lovely song.
I've been listening through "Why Are You OK" probably over ten times. It is truly a great album. It just needed some time to grow on me, but I am glad it did. It is obvious family was an inspiration while writing the album. It makes it so personal, which makes me like the album a lot.
Listen to the album on Spotify or Tidal.
Read the interview I did with Ben Bridwell on Gaffa.no (Norwegian).